WHAT IS EXPERIENCIA MALDIVAS?
Experiencia Maldivas is more than a travel agency, it is a way of living. It arises from the enthusiasm and passion of Eva and Xavi, its founders, with an endless eagerness to share their love for the Maldives in a much deeper way than what travel catalogues show. And every day, with each person we meet and accompany, it grows a little more.
You make Experiencia Maldivas grow, when you live this unique experience.
EXPERIENCIA MALDIVAS IS:
PASSION AND EMOTION
PEACE AND ADRENALINE
RESPECT FOR THE LOCAL CULTURE
PROXIMITY AND ACOOMPANIMENT
A PLACE WHERE EVERYONE FINDS WHAT THEY ARE LOOKING FOR
100% TRIP CUSTOMIZATION
LOVE FOR NATURE
SUSTAINABILITY
Founder
Eva Sola first discovered the Maldives in 2015 and since then the connection was definitive. After falling in love, she stayed to live in her place in the world, where she wants to keep growing, learning and sharing her passion for the authentic and local Maldivian life. PADI Divemaster and sea lover.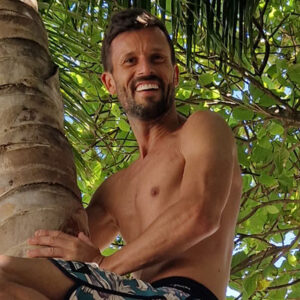 Founder
Xavi Pons is a psychologist and a writer as a vocation. The passion for the sea and the Maldivian lifestyle made Xavi connect immediately with the place and went directly into this project with Eva. Both of them, combining inspiration and love, started Experiencia Maldivas.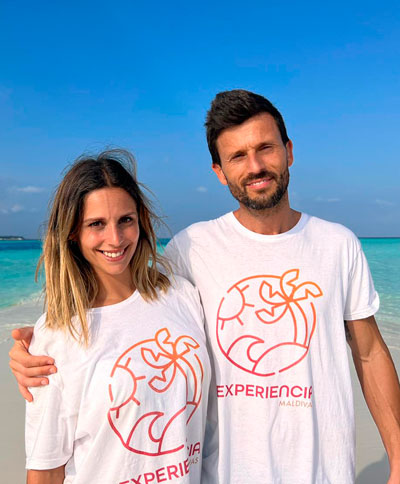 Driven by her desire to discover new worlds and live adventures, Eva came to Rasdhoo in 2015. After a serious illness that almost ended her life, she decided to turn things around and settled permanently in this little piece of paradise.
And she began to share the love that was already maturing in her for the archipelago and the generosity of the Maldivians with many travelers. But the pandemic came and she was forced to return to Spain, her native country.
But Covid was not reason enough to stop her and soon after she returned home in Rasdhoo with Xavi and her renewed energy.
They both set the project Experiencia Maldivas and since then the travel agency has grown and evolve with each traveller who visits them.
LOVE AND RESPECT FOR NATURE AND LOCAL
Since the beginning, we keep the love for our environment as the main value of our philosophy. And we work hard to reach as many people as possible, despite the difficulties, and despite the fact that the world seems to be going in the opposite direction.
How can we teach new generations to love and respect nature if they do not know it or have not had the opportunity to enjoy it? Our connection with this paradise, far from the concept of luxury resorts and houses by the sea, which make everyone's eyes happy but do not broaden the soul, is supported by this idea: to enjoy nature in order to love it more every day and thus grow in respect and desire to preserve it for the next generations. It is essential that we urgently raise our awareness and really get to work, so that these new generations will have a world to enjoy in the future.
AT EXPERIENCIA MALDIVAS, PARTNERSHIP ARE KEY TO CREATE MEANINFUL EXPERIENCES
We open a space for collaboration of any kind. We are always open and grateful for any possibility of cooperation that allows us to share and grow mutually.
We are big fans of Win-Win. We are willing to listen to any proposal that seeks a common good and is aligned with the above-mentioned values.
We are aware of the enormous value of the experiences we offer and we are not looking for it an advertising campaign, but to grow alongside people who add value to the project. Are you up for it?