THE BEST LOCAL DESTINATION IN THE MALDIVES
A COMPLETE TRAVEL GUIDE TO RASDHOO
WHAT TO DO ON ONE OF THE BEST ISLANDS OF THE MALDIVES. ALL YOU NEED TO KNOW
Based on our experience living on the island for several years and that of all the travelers who pass through here, we present you with the ultimate guide for a holiday trip to Rasdhoo, with all the information and useful tips you will need, based on
This information is of interest to you whether you are travelling alone or with family or friends.
Whether you're travelling on a big budget or you're a backpacker who cares about your wallet as much as you care about your own, Rasdhoo offers options for you.
Rasdhoo, also known as Rasdu (that's how it's pronounced), is one of the best islands in the Maldives, if not the best, to visit. It offers what every traveler could need, dreamy beaches, turquoise water, bikini beach, a plethora of activities, local life, etc.
Rasdu is a local island, it is not a private island owned by a big hotel or resort that shows a very comfortable face but also very far from the reality of the environment. So, you can enjoy paradise without spending a fortune.
WHERE IS RASDHOO? GEOGRAPHICAL AND DEMOGRAPHIC FEATURES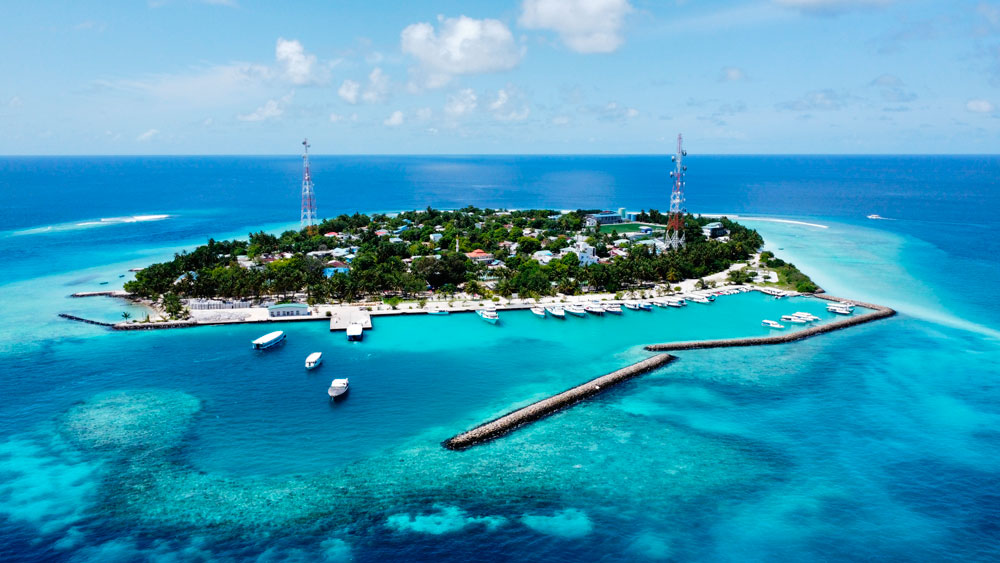 This paradise is located in the Alif Alif atoll (or Alifu Alifu), also known as North Ari. Alif Alif Atoll consists of more than 40 islands, of which only 9 are inhabited. Of these 40, Rasdhoo is the capital and therefore the most important.
The island is 56km west of Malé, the capital of the Maldives, making it very accessible. It is approximately 500 meters long and 600 meters wide, so it is very small and easy to get around on foot. It is the most populated island in the Ari Atoll, with just over 1500 people. Despite its size and population density, there is no overcrowding and you don't get the feeling that there are even a third of those people, except at local events on the island when they gather.
What is an atoll? That's what most of the islands in the Maldivian archipelago are called, characterized by a more or less rounded coral reef opening out into the Indian Ocean.
WHAT FACILITIES ARE AVAILABLE ON THE ISLAND?
Rasdu has everything you need for a pleasant and trouble-free stay.
There are all kinds of shops, from supermarkets to souvenir shops, restaurants, hardware stores, mobile phone shops, etc
There is a hospital, which is a great advantage in case of any unforeseen event. It is the only island in the atoll that has a hospital.
In addition, the neighboring island (where the Kuramathi resort is located), less than 1km away, has its own nursing service and hyperbaric chamber, one of the few in the Maldives.
There is a police station, although you won't need one due to the extreme security of the island. But it's always good to know they are there.
There is a bank and ATM, which is a great advantage, as there are not usually any on the islands. It is a branch of Bank of Maldives. They are currently (early 2023) building a huge new branch.
There is a local post office, useful if you'd like to do some mailing.
There is Bikini Beach. One of the things most appreciated by tourists, as there isn't one on all the local islands either.
There are coral reefs accessible from the beach by swimming, no need to hire a boat to take you there.
Public ferry service in addition to private boats.
There are primary and secondary school, giving it an even more local character and feel of everyday life.
There is a football stadium and sports fields.
It has several mosques where locals go to pray, as it is an Islamic country. The mosques are the nerve and cultural center of life in the archipelago.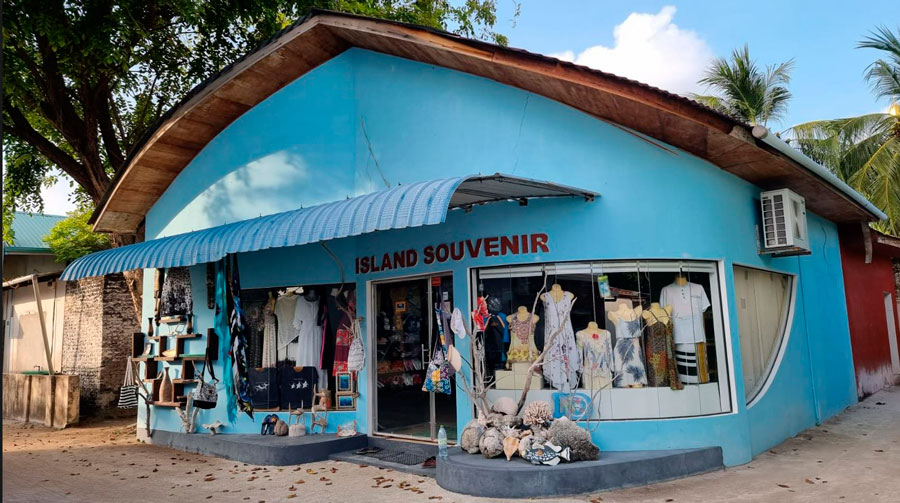 WHY TRAVEL TO RASDHOO?
Rasdu is probably the best local island in the Maldives. It offers everything you need for a dream holiday without breaking the bank: peace, adventure and local life.
Rasdhoo is world renowned and appreciated for its diving and snorkeling. It is one of the best islands in the Maldives for scuba diving, from beginners (try dives and courses) to advanced and breathtaking dives. Coral beds full of life, from thousands of small fish and other creatures, ideal for macro, to large sharks, manta rays, whale sharks. It is also very close to Hanifaru Bay, the largest congregation of manta rays in the world. A UNESCO World Heritage Site.
If snorkeling is more your thing, it's also a popular destination for that. It has local reefs accessible from the shore. So at any time you can jump in the water with mask and snorkel and enjoy! On many other islands it is necessary to rent a boat or a dinghy to take you to the snorkeling spots, which increases the price a lot and does not allow you to do it whenever you want.
But Rasdhoo is not only known for what's underwater, but also for what's on the surface. Paradise white sand beaches and turquoise water. The typical Maldivian scene. And believe us, there are plenty of places to take photos that will make you the envy of the social networks.
Another great advantage is that it has its own Bikini Beach. In the Maldives, which is a fairly conservative Islamic country, you are not allowed to wear a swimming costume or walk on the beach without covering your body. This led to the emergence of pirate islands of resorts and hotels, which are far removed from local life and therefore have special rules. However, on some local islands, such as Rasdhoo, beaches have been set up so that tourists can sunbathe to their heart's content. This is Bikini Beach, which does not exist on all islands.
Besides salt, sun and palm trees, you can't get bored on Rasdhoo, as there's so much to do. From wakeboarding and jet skiing to romantic dinners and yoga, there's something for everyone in the family. So much that you won't be able to do it all in one holiday. Here you can take a look at: All the activities available in Rasdhoo.
In Rasdhoo, you can enjoy one of the best Sandbanks in the Maldives. It is one of the most iconic sight in the archipelago, the typical little white sandy beach surrounded by the turquoise blue of the sea. Rasdu's sand bank is located on the nearby island of Madivaru Finolhu (1 minute away).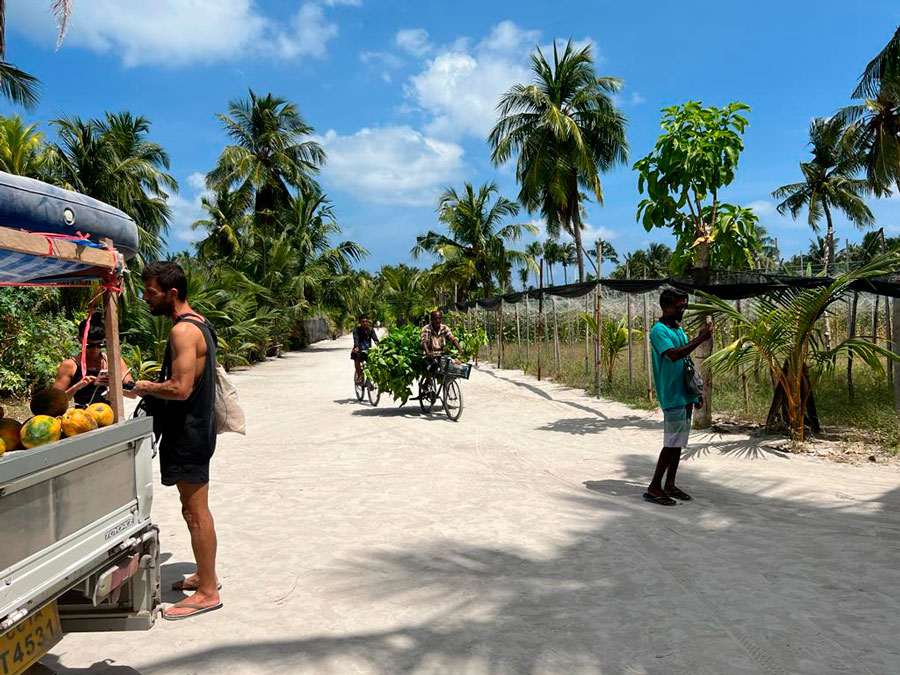 RASDHOO VS. MAAFUSHI AND THE OTHER LOCAL ISLANDS, WHICH IS BETTER?
The main difference when travelling to the Maldives is whether to do local tourism or resort tourism. Regarding the local islands, the most famous ones to visit are, besides Rasdhoo:
Maafushi. This is the best known. It is the first to be opened to tourism and the one with the largest influx of foreigners. But for this reason it is starting to become a bit over-exploited and losing its essence.
Dhigura
Hura
Dhiffushi Gulh
Guraidhoo. This one is well known for diving but not as well known as Rasdu
Dhangeth
Thulusdhoo
Of all these local islands to visit in the Maldives, we are convinced that Rasdhoo is the best. They all offer more or less the same thing, paradise beaches and some activities. But given the fact that Rasdhoo's seabed is one of the best in the Maldives, the wide range of activities on offer and the possibility to enjoy local life without the island being too overdeveloped like some of the others, it is the best island to enjoy it all.
HOW TO GET TO RASDHOO FROM MALÉ?
To get from the country's capital to the capital of Alif Alif Atoll you have 3 options:
By public ferry/slow boat
The Maldives ferry service works very well, but they don't run every day and you won't be able to catch them exactly when you want to.
The Malé-Rasdhoo line is number 303. It departs from Malé on Mondays and Thursdays at 9am and from Rasdhoo on Sundays and Wednesdays at 11am. It takes about 4 hours and costs 57rufiyas, about $3.5. From Malé it departs from Villingili Ferry Station. Tickets can be bought on the spot, but it's best to buy them in advance.
By Speed Boat
This is a private service, like a water taxi. Two depart daily from the airport in Malé at 10.30am and 4pm. On Fridays the schedule is 9:30 and 16:30. To return from Rasdu to Malé, there are daily departures at 7:00 and 13:00. On Fridays the timetable is 7:00 and 14:00. The journey time is about 1.5 hours and the price is 40$.
Speed Boats must be booked in advance as they tend to fill up, and are usually best booked through the hotel you are staying at. At our travel agency Experiencia Maldivas, we always include and manage the transfer for you, by speed boat, so you don't have to worry about anything.
By seaplane.
This is the fastest way to get there, but also the most expensive. The journey takes 15 minutes and costs over $200. You'll get a great view, but be aware that you'll arrive in Kuramathi and from there you'll have to take a water taxi to Rasdhoo, which is less than 1km away.
You'll need to book several days in advance.
HOW TO GET TO RASDHOO FROM OTHER LOCAL ISLANDS?
This only makes sense if you are coming from Ari Atoll itself, as there are no combinations with other atolls. In that case you would have to go via Malé.
From Mathiveri or Ukulhas
This route is served by public ferry number 301 and takes 1.5 hours and 50 minutes respectively. The ferry departs every weekday except Tuesday and Friday at 9.40am for Rasdhoo and at 11am for Mathiveri and Ukulhas.
From Thodoo
There is another public ferry, which takes 1 hour and 10 minutes. It leaves for Rasdhoo on Wednesdays and Sundays at 6.30am and returns on Mondays and Thursdays at 3.10pm.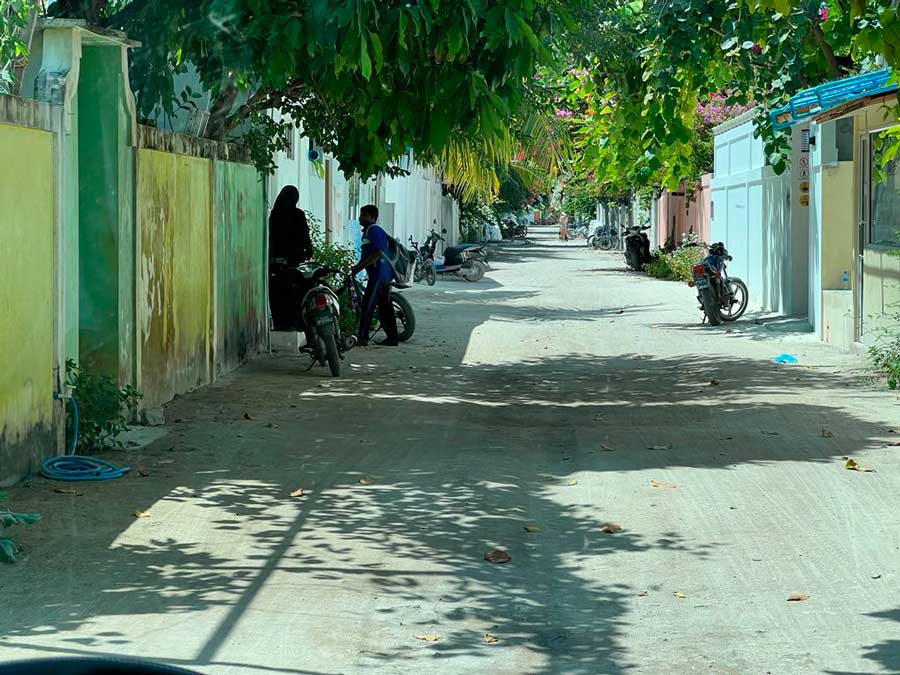 WHAT IS THE BEST SEASON/TIME OF YEAR TO VISIT THE ISLAND?
Nowhere in the Maldives are there seasons as we know them in Europe or America. The climate is fairly stable throughout the year. The climate is predominantly tropical, hot and humid, all 12 months.
There are two "seasons", the wet season, when it rains the most, between May and October, and the dry season between November and April. Tourists tend to prefer the dry season, so this is also the high season. This causes prices to rise and there is less supply of both accommodation and services as they are busy. During the rainy season, the weather is still warm and the sun is out. It's not like the monsoon in some areas, during which it practically never stops raining.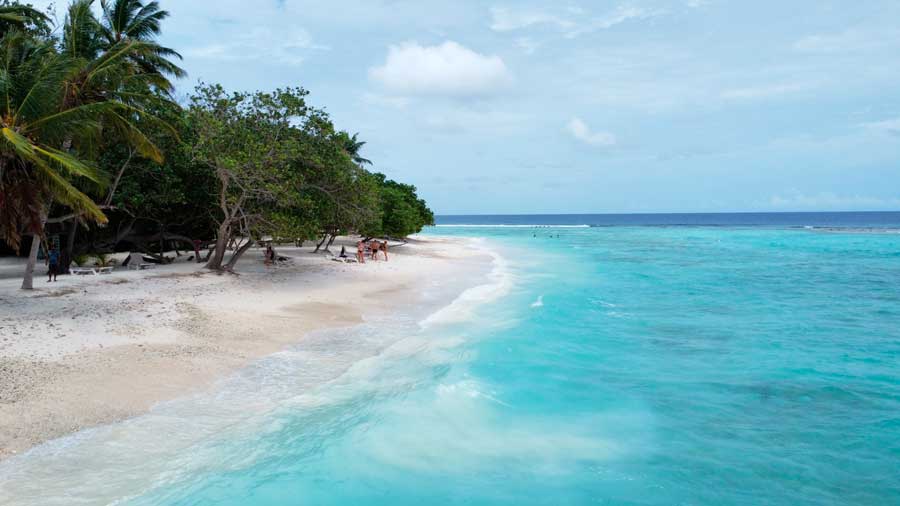 WHAT IS THE TEMPERATURE IN THE MALDIVES THROUGHOUT THE YEAR?
The air temperature does not vary much between January and December. It can vary from 26º to 32º during the year, maintaining an average of 28 degrees Celsius, which makes it very pleasant.
WHAT IS THE WATER TEMPERATURE IN THE MALDIVES THROUGHOUT THE YEAR?
Same as the temperature out of the water, the sea temperature does not vary much. It is usually between 27º and 29º, which makes swimming a pleasure in any month.
HOW MUCH DOES IT COST TO TRAVEL TO RASDHOO?
A great advantage of the island is that it offers options for all budgets. It is true that arriving in the Maldives increases our budget for the trip considerably, as an average flight from Spain usually costs around €450 each way. In other words, around €900 round trip. You can get cheaper air tickets than that, depending on the
Time of the year and the airlines' offers, but it serves as an approximation.
Once on the island, the costs are divided between accommodation, food and the activities you want to do. So you can get a rough idea:
A night in a hotel on the island ranges from 30$ to 450$.
A meal ranges from $10 to $60.
Activities such as jet skiing, windsurfing and banana boat rides range from $30 to $80.
Normally, travelers prefer to book an all-inclusive package with an agency or tour operator, including accommodation with food and an activity package. From $1,000 – $1,200 you can spend a week as a king/queen and enjoy various activities. On top of this, the price can increase depending on what you want to do.
If we compare this with resort tourism and big hotels that cost at least 3000$/week, we can see that visiting a local island is much more economical. And comparing the price/quality of Rasdhoo with other similar destinations, it is a very cheap place for the quality and possibilities it offers.
WHAT CURRENCY IS USED IN THE MALDIVES AND HOW DO I PAY?
The official currency of the Republic of Maldives is the Maldivian Rupee or MVR, better known as Rufiya. 1 rufiya is divided into 100 laari (like Euro or dollar cents).
The exchange rate to Euro is 1 euro=16 rufiya approx. and to US dollar is 1$=16 rufiya approx.
You can only exchange euros or dollars to rufiya in your own country, as they cannot be taken out of the country. If you find them in your home country, the exchange rate will be very high, so it is best not to buy them until you get there.
Most places accept credit cards for payment, but it's always a good idea to have some cash with you. Also, it's usually more convenient to pay with local currency than with foreign currency, otherwise they'll apply whatever exchange rate the merchant wants.
Where to get Maldivian rupees? You can exchange them in Malé or at a local island bank. Tip: if you pay with dollars, they'll give you change in rupees, so that's another way to get them.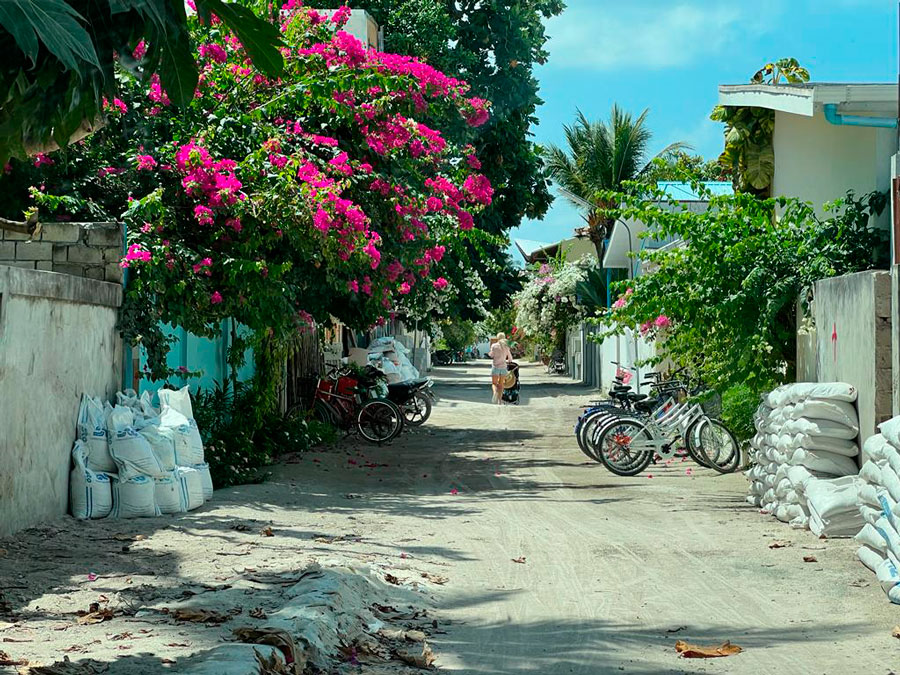 IS IT BETTER TO BOOK IN ADVANCE OR GO ON AN ADVENTURE?
The Maldives in general and Rasdu in particular is a destination where it is not really worth going there without anything booked and doing it there directly. In fact, it is usually cheaper to book your trip before you arrive in the Maldives. Agencies and tour operators offer packages that save you money if you want to book the same services separately.
In addition, depending on the time of year you travel, it may be that both transport and accommodation may be fully booked and you cannot book them on the spot.
HOW MUCH TIME TO SPEND ON THE ISLAND?
It is very likely that you will not have time to enjoy all that Rasdu has to offer on a first trip, as there are so many options. If you wanted to do all the activities available, you would have to spend at least 2 or 3 weeks. Some people could spend that time just snorkeling or diving.
We recommend a minimum of 5 days, but really you should spend at least 1 week. The most expensive part of the trip is getting to the Maldives, and once you're there you'll want to enjoy it for at least 7 days.
But life, and even more so on holiday, you have to take it easy, so we recommend spending 10-14 days there.
WHAT NOT TO DO IN THE MALDIVES?
Nothing you wouldn't do at home, or that you wouldn't want tourists to do in your country.
Also, keep in mind that the Maldives is an Islamic and fairly conservative country. It has long since opened up to resort tourism on private islands, and not so many have been allowed to visit local islands. We should therefore be especially respectful of their culture and people.
Some general recommendations to avoid if you travel to the Maldives:
Don't drink alcohol – it's forbidden on the local islands. In fact, you won't be able to buy it anywhere, unless you bring it from home. And frankly, if you have to travel with alcohol, this is probably not the destination for you.
Don't go around just with your swimming suit in areas where it's not allowed. The local islands have set up special areas for this, the Bikini Beaches. Rasdhoo has one of the best.
Similarly, you should dress respectfully on the local streets, i.e. not too much or too flamboyantly. In particular, women are expected to be covered up, without showing cleavage or thighs. We are not going to go into the appropriateness of these dress codes, we are merely conveying what is considered disrespectful there.
Don´t snogging or excessive fondling in front of the locals. It's great that you love each other so much, but Maldivians don't take kindly to excessive affection in public.
Respect coral and animal life, both in and out of the water. As a general rule, avoid touching any living thing, as you may harm it. And yes, coral is a living thing, and extremely delicate.
Do not take anything that is not yours. Coral, shells, rocks, etc., no matter how dead they are, still serve a natural function.
Don't bargain too much. In Malé and more touristy areas, bargaining is acceptable, but on the local islands it is frowned upon and it can be quite disrespectful to try to undercut prices.
HOW DO LOCAL PEOPLE LIVE IN THE MALDIVES?
Rasdhoo is one of the best islands to get a glimpse of local Maldivian life and culture. While in the rest of the archipelago, Maldivian culture is quite closed and conservative, defined by the Islamic religion, in Rasdhoo it's the opposite. While it's not the most open-minded people in the world and it's hard to make friends, the island's people have a calm, friendly and gentle character, marked by a small island and no great hardship.
The island's inhabitants tend to be fishermen or, more recently, tourists. There is no established market as such, but fish is bought directly from the fishermen when they arrive in port. Other groceries are bought from one of the small local grocery shops.
The locals are big fans of sports, even out of the water. It is common to see them playing mainly football, volleyball and handball. Sporting events are organized throughout the year and generate a lot of excitement on the island.
The main way to get around is on foot, as the distances are very short. There are practically no four-wheeled vehicles and the streets are sandy.
IS IT SAFE TO TRAVEL AND GET AROUND THE ISLAND?
Definitely yes. It is extremely safe to travel to Rasdu. There are virtually no disturbances, let alone robberies. In addition, the island has its own police station, which, while not necessary, adds (if possible) to the sense of security.
WHERE TO SLEEP / STAY IN RASDHOO?
There are basically two options for accommodation on the island: large hotels/resorts or local hotels/guesthouses. It depends on your budget and the type of trip you're looking for, which choice you'll want to make. Some people combine both options to experience both.
Resorts. There are two, but neither is on Rasdu Island, but on the atoll itself. This is the most expensive option and is mainly all-inclusive, so you won't want to leave the resort itself.

Kuramathi Maldives. This is the cheaper of the two and the closer to the main island, but you won't find a night under $450.
Veligandu Island Resort & Spa. More luxurious and secluded than the previous one, but also more expensive. Prices per night start at $750.

Guesthouses/local hotels. There are about 20 of them scattered all over the island. Here there are more differences in price, quality and service. In addition to these, there is an unwritten rule in Rasdhoo that the activities you want to do must be arranged with the hotel where you are staying. Therefore, this must be taken into account or else you won't be able to do some of the experiences you would like to do. Some of the best guesthouses in Rasdu are:

Shallow Lagoon Rasdhoo. Undoubtedly the best on the island for value for money. This is stated by travelers who place it in the number 1 on TripAdvisor. It has the largest and best range of activities on the island, so you can do everything. In addition, it has the most rooms, making it almost always possible to do any activity, as in most cases they require a minimum number of people, and if they don't have enough participants, they don't do them.
Quicksand
Island Inn
Coralville
Aqcua Blu
Tesoro View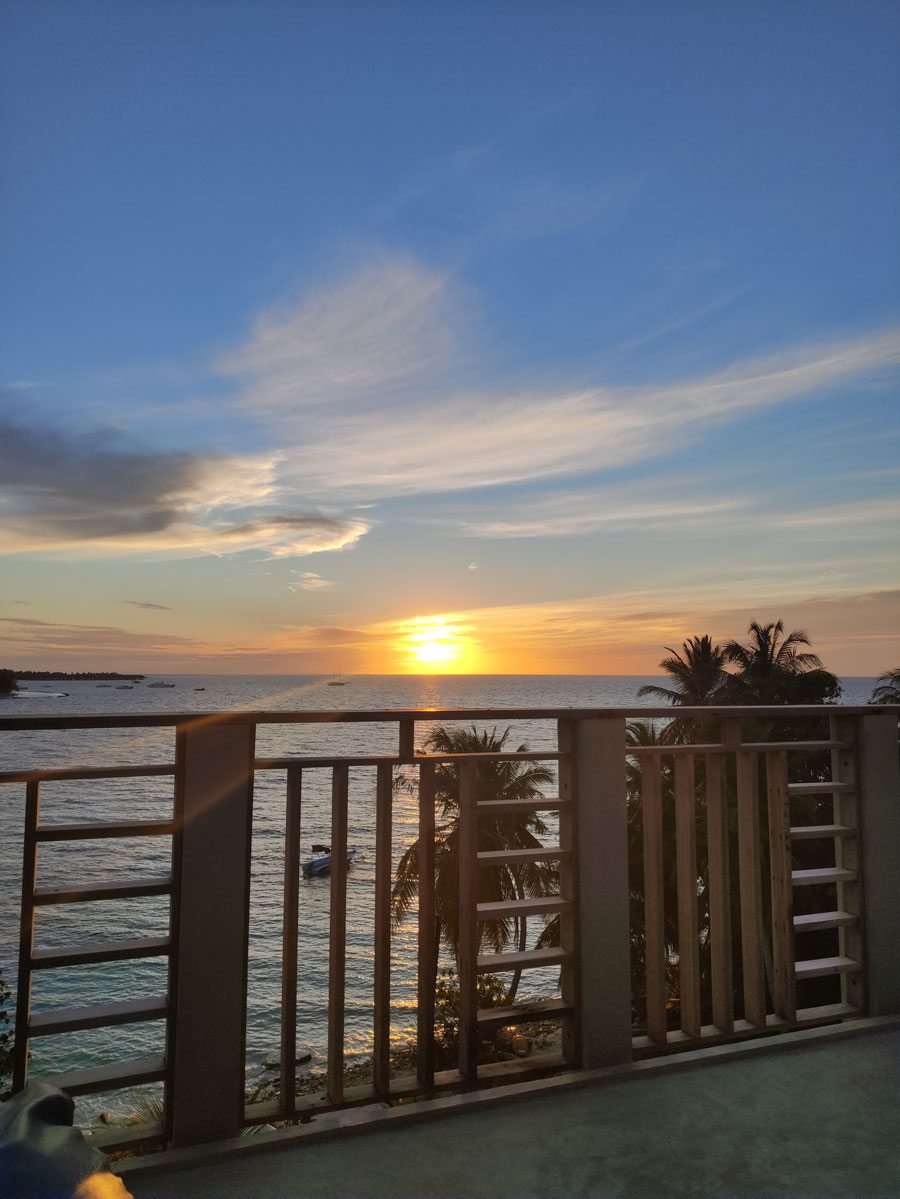 WHERE TO EAT IN RASDHOO? BEST RESTAURANTS WHAT IS TYPICAL TO EAT?
Regarding what to eat on the island and what is typical, to be honest the Maldives is not a country that stands out for its gastronomy. The local diet tends to be based on rice and fish, as it could not be otherwise, being surrounded by the ocean. The most typical Maldivian dish is garudhiya, a fish soup with rice, onion, chili and lime. The fish is usually tuna, but it depends on the catch of the day.
To talk about the best restaurants on such a small island is to talk about all of them, as there are barely 10 places serving food. The best option is usually half board or full board at the hotel where you stay.
Some of the best restaurants on the island are:
Coffee Olé
Lemon Drop
Tranquila
Alimente
Palm Shadow
Icoco
Take it easy, as rushing is not the norm on the island, so no matter where you eat, it will take a while for your food to be served.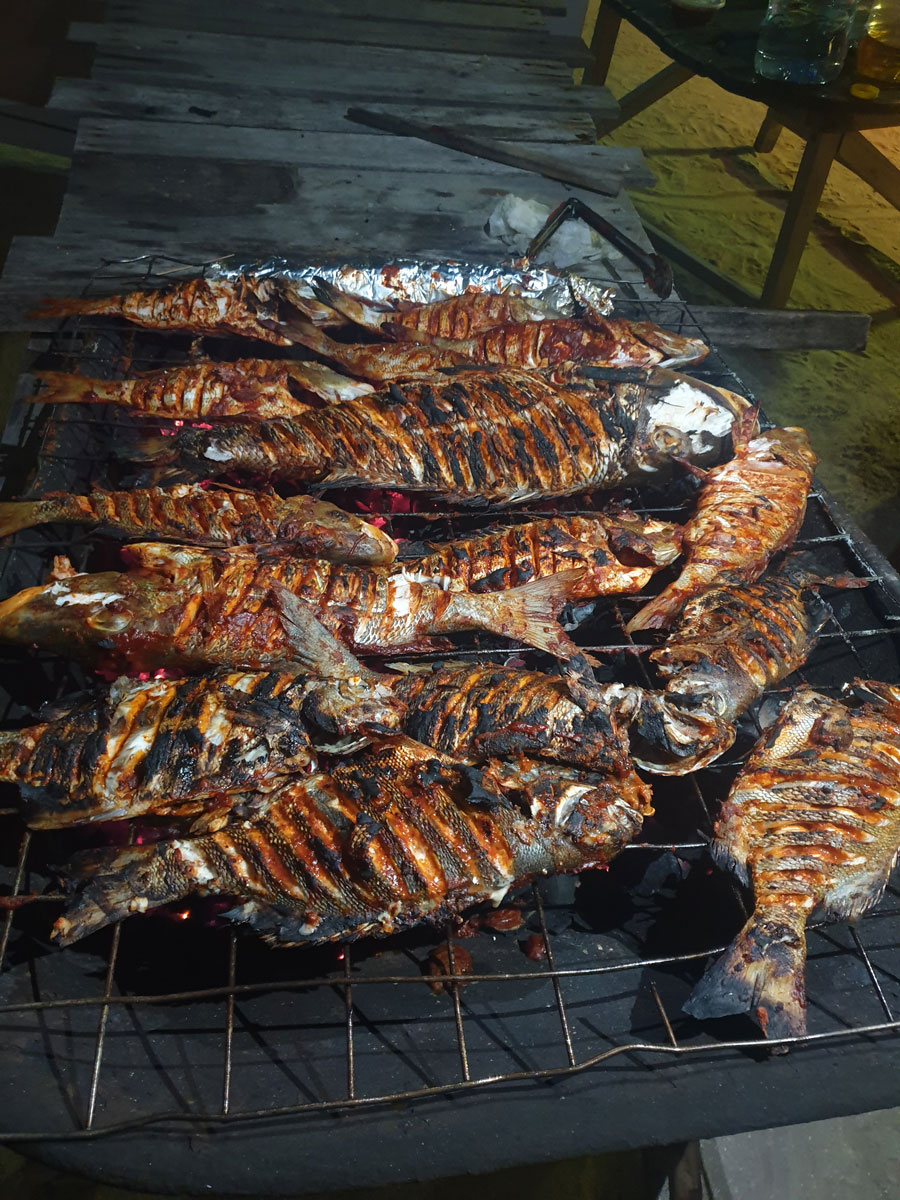 SNORKELLING AND SCUBA DIVING IN RASDHOO?
It is one of the best islands in the archipelago to enjoy these two sports, both for its coral-filled seabed and for the life. Some of the species that can easily be seen while snorkeling and diving in Rasdu are: manta rays and rays, turtles, dolphins, 8 types of sharks (including hammerheads, black tips, white tips, whale sharks), clown fish (Nemo), parrot fish, seahorses and a long etcetera.
The best snorkeling spots on the island are practically all of them, as the entire island is surrounded by a coral reef. Probably the one with the best reputation is the one in front of Bikini Beach, as it is the most frequented beach by tourists.
The best dive sites for scuba diving are:
Beyru
Rasdhoo Channel
Madigaa (Manta Point)
Veligandu
Madivaru Corner
Ori Faru
Hammerhead Shark Point
Caves
Three Palms
Bodu Gaa
Reef Explorer Wreck
Kuramathi Queen Wreck
WHAT ELSE IS THERE TO DO ON THE ISLAND?
Rasdu offers one of the most extensive catalogues of experiences to do of all the local islands in the Maldives. There are options to suit all tastes and budgets. Here you can take a look at what you can do during your stay:
Snorkeling with turtles
Jet ski
Kayak & Paddle surf
Romantic Sandbank Dinner
Discover Scuba Diving
Water skiing
Banana boat
Whale shark tour
Fun tube (float pulled boat)
Excursion to the sandbank
Romantic dinner on the beach
Snorkeling with sharks
Night fishing + barbecue
Manta ray tour
Windsurfing
Windsurfing class
Wakeboarding (water skiing with board)
Wakeboard class
Catamaran sailing
Knee Boarding
Visit another local island – full day at Thoddoo and Ukhulas
Visit Hanifaru Bay, a UNESCO World Heritage Site in the Maldives where the largest congregation of manta rays in the world is found.
CONCLUSION
Rasdhoo is the perfect destination for a holiday, as it combines relax in paradise with the adventure of the many activities that can be done and an insight into the local culture.
At our travel agency Experiencia Maldivas we help you plan your trip to make the most of it, and at a price that will allow you to breathe. Contact us here if you have any questions or are thinking of coming to enjoy this little piece of paradise. We look forward to seeing you.
We'd provide you with personalized advice, without comprise